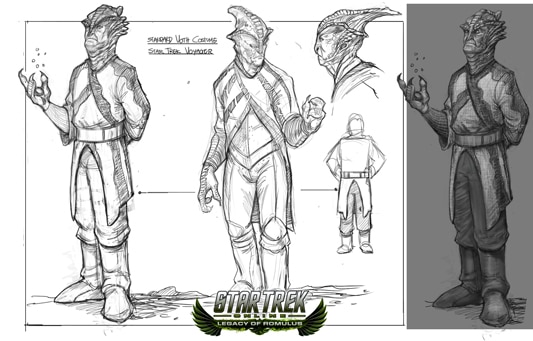 Season 8 looks to bring with it the Voth a species from the Voyager Series! With a new Sector of Space coming at the same time will we now have a chance to explore the Delta Quadrant?
VOYAGER SPOILERS FOLLOW:

The Voth come from Earth. Before the dinosaurs were wiped out a sentiant race of them left our planet in search of a new home.
The Voth leaders do not believe that other races in the galaxy should have any rights and that they were the first to evolve in the Quadrant. When hey were discovered by Voyager in the Delta Quadrant and helped to prove the distant origin theory (that they came from Earth). However this is considered to be heresy.
Technology:
Even before the end of Voyager Series the Voth had advanced Transwarp technology, and their scanners have a range of 90+ light years! The Voth can also have advanced spatial displacement cloaking tech.
The largest of Voth Ships (City Ships) are so big they can transport a vessel the size of Voyager within itself and still have room for hundreds more star ships. That said they can transport ships even when they are shielded and even take control of computer systems.